NAVAL BASE YOKOSUKA, Japan – The USO recently recognized 14 individuals from the U.S. and Japanese service branches for their community service in Japan last year.
More than 40 people gathered at the Yokosuka Naval Base Officers' Club for USO Japan's 14e Annual Tribute to Service Awards.
The awards celebrate service members who not only excel in their careers, but who also contribute significantly to their communities. Applicants are selected based on a variety of criteria, including professional development, personal achievement, leadership and volunteerism.
"It is a great testament to your commitment to excellence, your exceptional leadership and your selfless dedication to service to others that you are here tonight with us," USO Area Director Natalie Rowland said at the ceremony. .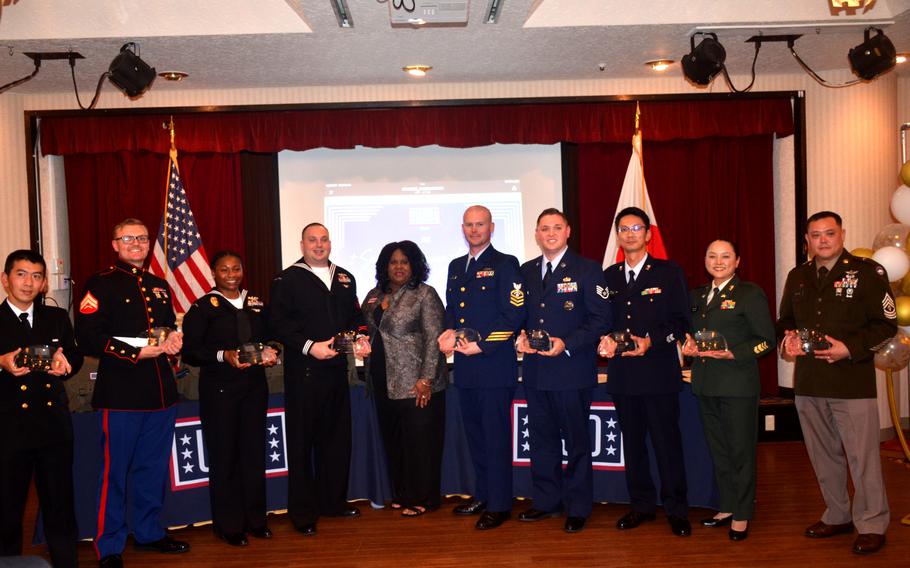 Typical among the honorees was the Japan Ground Self-Defense Force Master Sergeant. Takako Sasaki, 50, from Aomori. Sasaki was nominated for volunteering in various cleanup projects and working as a mental health counselor.
It was an honor to receive the award, she told Stars and Stripes after the ceremony, and she hopes the other volunteers who have worked with her also share the credit.
All U.S. military bases in Japan except those in Okinawa, and every branch of the Japan Self-Defense Forces were represented at the ceremony.
Air Force Staff Sgt. Jarrod White and U.S. Coast Guard Chief Petty Officer Daniel Nielson were appointed by Yokota Air Force Base, the headquarters west of Tokyo for U.S. forces in Japan. Shannon Lamberti, a USO civilian volunteer from Yokota, was also recognized.
Yokosuka Naval Base, home port of the 7e Fleet, appointed Navy Petty Officer 1st Class Mionca Tomlinson and Petty Officer 2nd Class Christopher Payne.
From the Marine Corps in Japan came Cpl. Michael Burdick of the Marines' Combined Arms Training Center Camp Fuji, and Cpl. Jasmin Davilajuarez of Marine Corps Air Station Iwakuni.
Burdick, 21, of Lake Forest, Calif., was recognized for his contributions to Camp Fuji's recreational facilities, including the USO lounge and base chapel. A staff shortage left the two facilities without much support, so he stepped in for maintenance duties, he said.
"I feel very honored and I feel appreciated by the command," he told Stars and Stripes after the ceremony. "And I'm very honored that someone sees the work you do and decides to reward you."
Camp Zama, the U.S. Army Japan's southwest Tokyo headquarters named 1st Sgt. Guy Weaver; Misawa Air Force Base appointed Navy Petty Officer 1st Class Christopher White.
Representing Naval Base Sasebo, Petty Officer 1st Class Regina Corpus and Petty Officer 1st Class Dennies Damaso.
The Japan Air Self-Defense Force appointed Master Sgt. Makoto Fujita, the Ground Self-Defense Force nominated Sasaki, and the Maritime Self-Defense Force nominated Petty Officer 3rd Class Hiroki Shirakura.
"We thank you for standing with our U.S. military service members as we come together to protect and serve the Indo-Pacific region together from harm, building a secure future for generations to come," Rowland said. to the Japanese laureates at the ceremony. "Thank you for your lasting friendship."