[ad_1]
The Remillard Family Community Service Fund has awarded nine grants for collaborations with UMass Chan Medical School that have the potential to improve the health of residents of central Massachusetts, particularly those who are economically or educationally disadvantaged or under-represented.
Established in 2015 with a $ 3 million donation from the Remillard Family Foundation, the Remillard Family Community Service Fund is dedicated to providing ongoing support to community outreach programs led by faculty, students, staff and community partners. of UMass Chan.
2019 Worcester Technical High School graduates Michelle Haigbea (left)
and Marleen Nunez participated in UMass Chan workshops.
This year's grants of up to $ 20,000 support these new and ongoing projects:
Hairdressing Salon Health Network proposed by medical student Michelle Chang and Michael Hirsh, MD, professor of surgery: This project will host community conversations about COVID-19 vaccines in Worcester at hair salons, beauty salons, community centers and COVID-19 vaccination clinics led by student volunteers. Based on the community response and the adjusted protocols, the project will expand to 15 locations.
Improve the oral health of patients at Worcester Free Collaborative Care Clinics by increasing access to dental services and education proposed by medical students Tyler Healy, Grant Garcia, Mina Botros and James Ledwith, MD, assistant professor of family medicine and community health: At Epworth's Methodist Free Medical Program monthly oral health evening, dental hygienists and students from the Massachusetts College of Pharmacy and Health Sciences will work alongside medical students to integrate free fluoride varnish applications and dental screenings in the usual clinical evaluation.
Improving the social skills of adolescents / young adults of transition age with autism XR proposed by Isha Jalnapurkar, MD, assistant professor of psychiatry; Julie LeMoine, assistant professor of psychiatry; Mo Hammad Modarres, PhD, assistant professor of psychiatry; and medical student Linh Nguyen: This project aims to improve the Program for Relational Skills Education and Enrichment (PEERS), a social skills treatment for people with autism spectrum disorders. By using virtual environments generated by computer technology, the project will reduce the number of people required to run the program.
Diabetic foot ulcers proposed by Tammy Nguyen, MD, PhD, Assistant Professor of Surgery, and Mallory Gibbons, NP, and Jessin Varghese, NP, nurse practitioners at the UMass Memorial Diabetes Center of Excellence: The team will expand the UMass homeless diabetic foot screening clinics and establish a more accessible and sustainable follow-up program for the continuity of diabetic foot care to prevent diabetes-related complications in the homeless and reduce their use of emergency health care.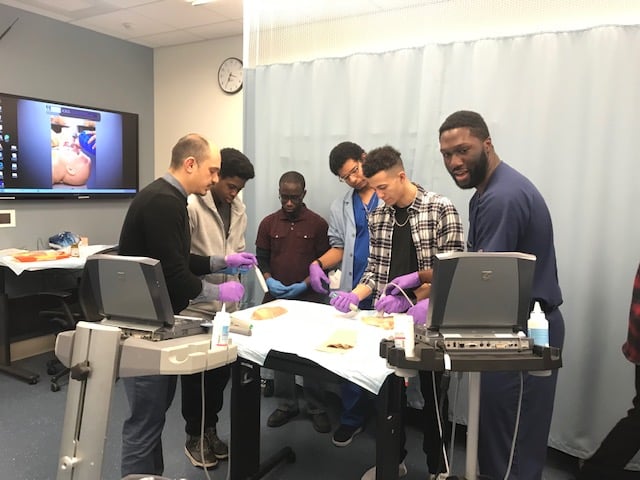 ScienceLIVE – Refine modules and improve training, materials and monitoring proposed by Mary Pickering, PhD, senior scientist in biochemistry and molecular biotechnology; Christina Baer, ​​PhD, assistant professor of microbiology and physiological systems; Angela Messmer-Blust, PhD, assistant professor of RNA therapy; and Athma Pai, PhD, assistant professor of RNA therapy: ScienceLIVE, a STEM education and awareness program that delivered 75 virtual science presentations for more than 1,800 Worcester Public College students during the 2020-2021 school year, will be enhanced by incorporating companion activities with monitoring materials, including worksheets for students and teachers.
UMass Memorial Health Pediatric Diabetes Program proposed by Leslie Soyka, MD, associate professor of pediatrics: This project will create a new workbook and video series specifically for the rapidly growing population of young people with type 2 and prediabetes. All manuals and video scripts for pediatric diabetic patients will be translated into Spanish and Portuguese.
Support caregivers and professionals to fight against problematic sexualized behavior in children proposed by Sasha Svendsen, MD, assistant professor of pediatrics; Mary Harris, LICSW, clinical social worker for the UMass Memorial Child Protection Program; and Diane Lanni, Senior Trauma Coach for UMass Memorial Foster Child Assessment Services: Child health professionals and caregivers will receive information and practical strategies to strengthen healthy sexual development and healthy relationships through a child-centered approach, ultimately promoting resilience and well-being. be of these children in order to reduce the fear, shame and stigma surrounding this behavior.
UMass Chan-Worcester Technical High School Biotechnology Program Cooperative Internships proposed by William Theurkauf, PhD, professor of molecular medicine, Crystal Auger, head of the biotechnology department and Mary Blute, cooperative coordinator at Worcester Technical High School: The senior-in-good standing internships will provide important research opportunities for a traditionally underserved high school student population and provide invaluable mentorship opportunities for graduate students and postdoctoral fellows at UMass Chan Medical School.
Healthcare professionals of tomorrow proposed by medical students Xinmiao (Bridget) Yang, Michelle Chang and Nicholas Belizaire; MD / PhD candidate Kevin O'Connor; Robert Layne, EdD, Assistant Dean of Outreach Programs; and Maria Garcia, MD, professor of medicine and assistant vice-president for diversity and student success: The Medical Professionals of Tomorrow program at North High School in Worcester will overhaul and renew in-person and virtual programs to improve racial under-representation in healthcare careers. Resources include SAT prep textbooks and books to help students prepare for college.
Related Articles on UMassMed News:
Worcester elementary students greeted with backpacks full of supplies from UMass Medical School
Student-led virtual wellness program provides support for older and hospitalized COVID patients
Remillard Family Community Service Fund awards eight scholarships to faculty and students
UMass Medical School provides support to Worcester Public Schools Summer Learning Program
Remillard Family Community Service Fund awards new grants to improve local health
[ad_2]